~*Welcome to*~
TODAY is the LAST day of our Spring-filled link-up with Jo of
Jo, My Gosh!
and I. I hope you have gotten by to see Jo's contributions to this week's link-up. If not, you should! I hope you have already joined in the festivities and link-up below, too (rules below), but (if not) you have until 11:59pm EST tonight to do so. :) Don't forget that TOMORROW we will each be sharing our TOP 3 FAVES with you all, too!
If I haven't been by to visit your submission yet, I will be soon! I can't wait to see what you have shared with us!
Here's what I've shared with you so far:
Today, I am sharing a recipe for Strawberry Spinach Salad that I modified from
this one on Allrecipes.com as submitted by Mona
. It is soy (if you use all
soy-free ingredients
), wheat, egg, milk and fish-free, and can be nut-free (see variations), and so very simple and delicious. It is sure to be a winner for get-togethers and picnics as you can make as much or as little as you like. I hope you enjoy it.
Strawberry Spinach Salad with Sweet Vinaigrette made with Raspberry Balsamic Vinegar
Strawberry Spinach Salad
Romaine lettuce, chopped, 1 head or to taste
baby spinach, whole or chopped, 1 bunch or to taste
strawberries, sliced, 1 lb. or to taste
almonds or pecans, sliced or pieces, to taste
red onions, shallots or green onions, to taste
Place all ingredients in a large serving bowl and toss well; serve as is or drizzle and toss with the Sweet Vinaigrette listed below or serve with the Sweet Vinaigrette on the side.
1/3 Cup vinegar of choice
(I recommend using Apple Cider, Raspberry Balsamic or Balsamic)
Mix all ingredients in a medium bowl with wire whisk or in a blender until well blended; toss desired amount with the salad or serve on the side. (Note: If you use a Balsamic vinegar, it will be brown in color, so you may want to serve it on the side vs. tossing it in with the salad if you find that color off-putting. You do not have to use all the dressing to toss into the salad either if you find the amount too much.)
Variations (Please keep your particular allergen needs in mind when using substitutions!):
Nut-Free: Leave out the almonds/pecans.


Diabetic Friendly: You can sub any sugar substitute for the sugar in the dressing. You can even use honey, if you can have it, but the taste will be different.


No Onions: You can leave out the onions if you don't like them or cannot have them.


Add Cheese: If you want to add some cheese, feel free. Any flavor you think would taste good will work. Swiss or White Cheddar would be especially good.


Other Fruits: If you don't like or cannot have strawberries, you could sub another fruit like raspberries or apples or even oranges, tangerine or grapefruit. You could even add a few different kinds together if you wished.


If you like poppy seeds, the vinaigrette originally called for 3 Tablespoons of them, so feel free to add them if you wish.
That's all there is to it! What could be simpler or more colorful for Spring?
What is your favorite salad?
This recipe was submitted to: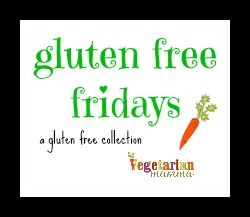 ~*~*~*~
Now It's Your Turn!