In honor of Independence Day in a few days, I decided to share a recipe that I shared on
Jo, My Gosh!
back in the end of May that fits the theme of the Fourth: patriotism!
(To see the original post, go
here
.)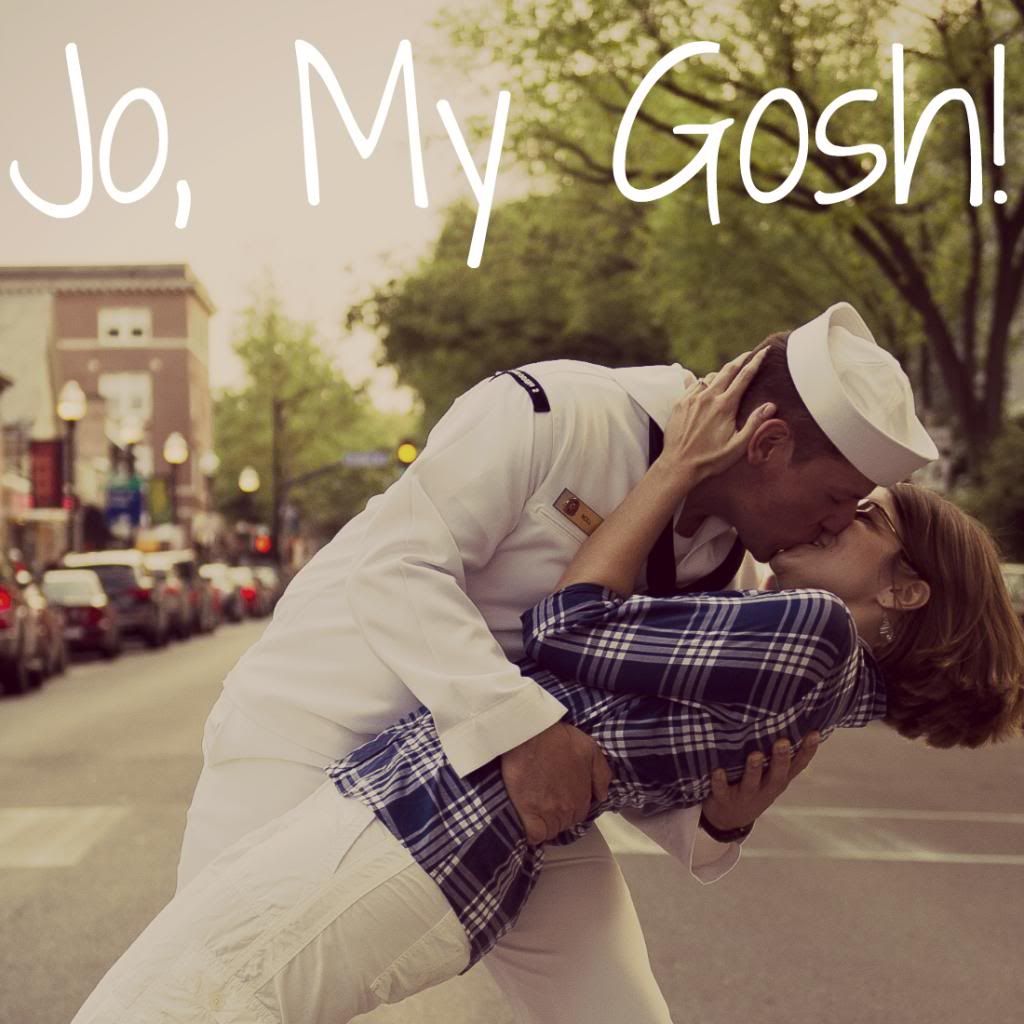 When Jo contacted me to be a guest, she told me she was looking for patriotic recipes, and at first I was stumped, but then I remembered an ultra simple recipe that I have called
Blueberry Bread
that could easily be modified to fit the theme! I already had the blue in the blueberries, I could add strawberries for the red and use white whole wheat flour for the white and walla! Delish, allergy-friendly (it is soy-free if you use all
soy-free ingredients
, fish, egg and nut-free, and can be wheat and milk-free (see variations below)) Patriotic Bread was born!
This recipe is beyond easy and so, so good! I mean, it has a streusel top and strawberry and blueberry goodness inside, people! What's not to love!?!?
Though you can't see the red, white and blue throughout it (it kinda gives off a brownish-purple vibe), I hope that you will enjoy the spirit of the recipe and that it becomes a tradition for your patriotic holiday meals! :)
Patriotic Bread
½ Cup salted, full-fat butter
1 Cup white sugar
1 ½ Cups soy-free flour
(I recommend using a white wheat flour such as
King Arthur brand
but all-purpose is fine.)
1 teaspoon baking soda
½ - 1 teaspoon salt
1/2 to 1 teaspoon cinnamon
1/2 to 3/4 Cups mashed blueberries
(This is about 1 to 1 1/2 Cups blueberries before you mash them.)
1/2 to 3/4 Cups mashed strawberries
(This is about 1 to 1 1/2 Cups strawberries before you mash them.)
Streusel Topping:
1/4 Cup brown sugar, packed
2 Tablespoons soy-free flour (use the same type you use in the bread)
2 Tablespoons salted, full-fat butter, softened
2 Tablespoons soy-free rolled oats (I use quick cooking)
1. Preheat oven to 325oF.
2. Grease 8x4 or 9x5 inch loaf pan.
3. In a large bowl, cream the 1/2 Cup butter and white sugar.
4. Add the 1 1/2 Cups flour, baking soda, salt and cinnamon. Mix well. (Note: The amount of salt and cinnamon is based on personal preference. I find that 1/2 teaspoon of salt is plenty. I enjoy the flavor of cinnamon, so I use the full teaspoon. If you do not, use the 1/2 teaspoon or leave it out entirely.)
5. Blend in mashed blueberries and strawberries. (I like to use a potato masher.) (Note: You can use frozen berries if you thaw them, just make sure you drain off any excess liquid before mashing them. Amount of mashed berries you use depends on personal preference and how liquidity your mashed berries are.)
6. Pour/scoop into prepared pan.
7. Prepare the streusel topping in a small bowl, by mixing 1/4 Cup brown sugar with 2 Tablespoons flour, then stir in 2 Tablespoons butter with a fork until crumbly before adding the 2 Tablespoons oats.
8. Sprinkle streusel topping onto bread.
9. Bake for 60 to 75 minutes or until a knife inserted into the center comes out clean.
Variations (Please remember to keep your particular allergen needs in mind when using substitutions!):
Gluten/Wheat-Free Version: Substitute Gluten-Free (Such as

King Arthur Brand

) flour for the flour. You may also have to add up to 1/2 teaspoon ground flax seed or xanthan gum to the mix as well for texture issues.

Milk-Free Version: Substitute olive, corn or canola oil or dairy-free butter (like

Earth Balance

) for the butter in the bread and grease the pan with olive, corn or canola oil or dairy-free butter. It works wonderfully! You will have to use a dairy-free butter in the streusel or leave it off, as well.

Berry Bread: Use any type of berry (i.e. raspberries, blackberries, cherries) in place of the blueberries and strawberries, or use any mix of berries that you wish, just do not exceed 1 1/2 Cups total of mashed berries.

Mix In Fruit/Nuts: You can always add some dried or fresh berries/cherries and/or nuts to the bread, too, but no more than 1 Cup total mix-ins. Make sure that any fruit is either dried or fresh, though. Extra frozen berries/cherries make a mush mess!

Less/No Streusel: If you are not fond of streusel, just leave it off. If you like it but think the amount is too much, reduce the ingredients in the streusel by 1/2 and make as directed.

Patriotic Muffins: This recipe would be great as muffins! Just divide the batter equally among 12 to 18 paper-lined muffin cups, top batter with streusel topping and bake for 20 to 30 minutes or until a toothpick inserted into the center of one of the center muffins comes out clean.