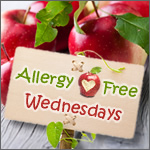 I wanted to make a page with a link specifically to this site (
Real Food, Allergy Free
) because I found the author, Nancy, to have a common goal with me - getting recipes and information out there for those suffering from one to all of the top 8 allergens - and the site is simply amazing!
I thought the
Allergy Free Wednesdays
page would be of most benefit, but I encourage you to check out the
whole site
. There is a lot of helpful information on there as well as links to other great blogs/pages that could be of real benefit to you.
I am going to be submitting recipes to the
Allergy Free Wednesdays
page, so look for me there. I may even end up being a guest author from time to time, which would be totally amazing and humbles me beyond words. :) You'll have to look there to see, and even if I don't, look anyway! :) It's totally worth the time!
To Nancy, thank you so much for your site and all the hard work you to do maintain it! I know how hard that is! Keep up the fantastic work making life just a little easier for those with allergies.
UPDATE: On November 2, 2012, I had my first ever guest appearance on
Real Food, Allergy Free
where I shared a bit about my "allergies" to Fibromyalgia journey. If you'd like to read all about it, please follow this
link
. Thank you, Nancy, for letting me share my story with you and your readers! :)